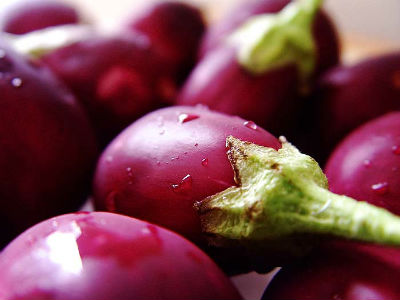 Ingredients:
1/4 kg small purple brinjals
1/2 tsp turmeric powder
a small pellet of tamarind
salt to taste
Seasoning
2 tbsp sesame seed oil
1/2 tsp mustard seeds
1 tsp black gram dal (urad dal)
2 sprigs curry leaves
Fry in 1 tsp oil and powder
2 tsp bengal gram dal (chana dal)
2 tsp black gram dal (urad dal)
a pinch of fenugreek seeds
a pinch of asafoetida
3 tsp coriander seeds
2-3 red chillies
1 tbsp grated copra
Method:
1. Wash and cut brinjals into inch long slices. Take out the extract of tamarind.
2. Heat oil, add seasonings and when done add brinjal slices, turmeric powder and fry on low heat sitrring occasionally; sprinkle some water, cover and allow to cook.
3. When brinjals have turned soft, add tamarind extract, salt and cook further till the brinjals are almost fry.
4. Add prepared powder, mix well and remove from fire.