This delicious Middle Eastern inspired dish is popular across the subcontinent. Served with a choice of salad, these are ideal for lunch or dinner or even can be served during any parties or special occasions.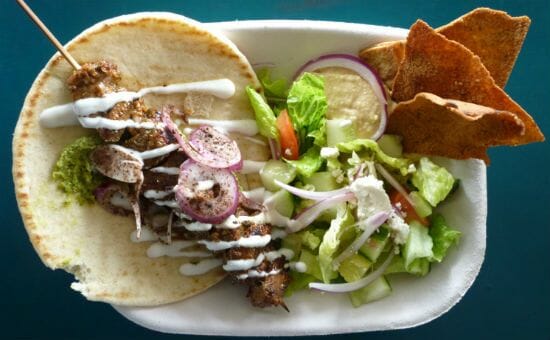 Ingredients:
Lamb – 400 gms, minced
Onion – 1, finely chopped
Oil – 1 tblsp
Butter – 2 tblsp, melted
Cinnamon Powder – 1/4 tsp
Cumin Powder – 1 tsp
Sea Salt – /34 tsp
Pepper Powder – 1/4 tsp
Coriander Leaves – 1/2 cup, chopped
Wooden Skewers – few, soaked in water for 30 minutes
To Serve:
Naan (or Pita Bread)
Sliced Cucumbers
Sliced Tomatoes
Sliced Onions
To Garnish (optional):
Sour Cream
Pepper Powder
Method:
1. Mix the onions, coriander leaves, cumin powder, cinnamon powder, salt and pepper powder.
2. Add 1 tblsp and the minced lamb.
3. Mix well and make small balls of the mixture.
4. Thread the lamb onto the skewers, 3 to 4 balls per skewer.
5. Press them lightly and brush them with butter.
6. Heat a grill pan over medium flame.
7. Add a little oil and place the skewers on the pan.
8. Grill the kebabs on both sides for 5 to 10 minutes or until cooked.
9. Turn them from time to time so that the kebabs are evenly cooked.
10. Remove and transfer to a serving plate.
11. Sprinkle a bit of pepper powder if preferred and garnish with some sour cream.
12. Serve with naan, cucumbers, tomatoes and onions.