Nethili Meen (or Anchovies) is a commonly found fish variety in Indian ocean and are a cheap source of protein. These fishes are either fried and served as a snack or used in various curries. This recipe (Nethili Meen Fry or Anchovy Fry) makes a perfect appetizer or can also be served as a side dish to rice varieties.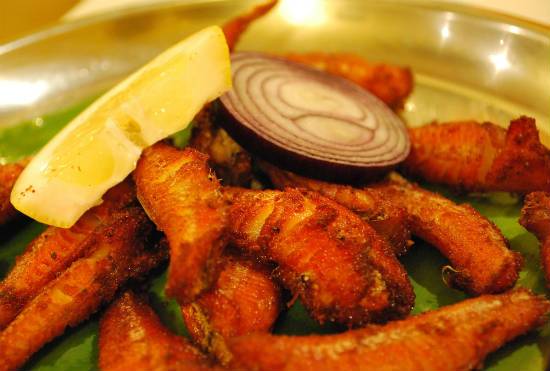 Ingredients:
Nethili Meen (Anchovies) – 10, cleaned, washed
Corn Flour – 1 tsp
Ginger Garlic Paste – 1/2 to 1 tsp
Juice of 1 small Lemon or 1/2 Big Lemon
Red Chilli Powder – 1/2 tsp
Coriander Powder – 1/2 tsp
Egg – 2 tsp, beaten
Turmeric Powder – a pinch
Curry Leaves – few, chopped
Oil as required
Method:
1. Combine all the ingredients except oil in a pan.
2. Keep aside for 10 to 20 minutes.
3. Heat oil in a nonstick frying pan over medium flame.
4. Shallow fry (or Deep fry) the marinated fish in batches until light golden brown.
5. Remove and serve hot.
Tip: Take care not to turn the fish too much or it will break.