Samosas are a popular Indian snack made with boiled potatoes and spices. This one is made with Sweet Potato and is ideal for evening/tea time snack.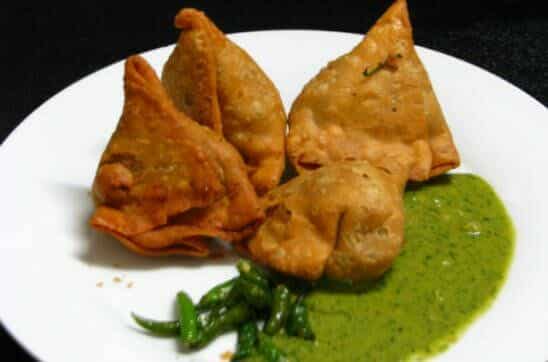 Ingredients:
Maida (Plain Flour) – 400 gms
Warm Water – 200ml
Oil – 1/4 cup + some more for frying
Salt – 2 tsp
For the Filling:
Green Peas – 200 gms
Sweet Potatoes – 2 big or 4 medium, peeled, chopped
Onions – 2, big, chopped
Garlic – 3 cloves, crushed
Oil – 1/2 cup
Ginger – 2 inch piece, grated
Red Chilli Powder – 4 tsp (adjust as per taste)
Green Chillies – 4, chopped, seeds removed
Coriander Leaves – few, chopped
Salt as per taste
Method:
1. Mix the flour, 1/4 cup of oil, water and salt in a bowl.
2. Knead well and cover the bowl.
3. Keep aside for 30 to 45 minutes.
4. Heat 1/4 cup of oil in a pan.
5. Add the onions, ginger, garlic and green chillies.
6. Saute well for a minute.
7. Add the sweet potatoes and reduce flame to low.
8. Cook until the potatoes are cooked, stirring often.
9. If needed add a little water to prevent the potatoes from sticking to the bottom of the pan.
10. Add the green peas and cook for 3 to 5 minutes.
11. Add the coriander leaves, salt, red chilli powder and stir well.
12. Remove from flame and allow it to cool slightly.
13. Make medium balls of the dough and roll them into a thin circle.
14. Add some of the filling and fold into a triangle. Cut the excess dough and use them again.
15. Brush the edges with a little water and seal the samosas.
16. Heat oil in a deep frying pan over medium flame.
17. Gently add the samosas and cook for 10 to 15 minutes or until light golden brown.
18. Remove and drain excess oil.
19. Serve hot with chutney or sauce.