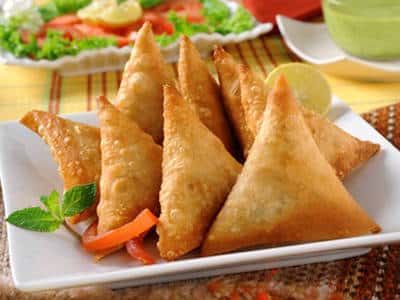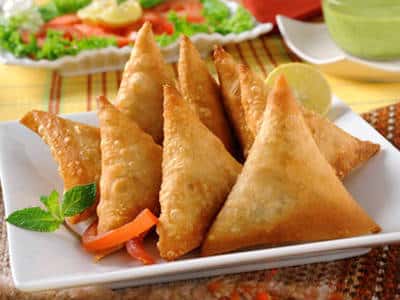 Ingredients:
Paneer – 100 gms, cubed
Potatoes – 100 gms, boiled, peeled, mashed
Onion – 1, chopped
Mint Leaves – 1 tblsp, chopped
Green Peas – 1/4 cup, thawed if frozen
Garam Masala Powder – 1 tblsp
Mango Chutney – 1 to 2 tblsp, available in most major stores (optional)
Red Chilli Powder – 1/4 tsp
Pastry Sheets – 1 pack
Butter – 1/2 to 3/4 cup, melted
Juice and Zest of 1 small Lemon
Oil – as required
Salt as per taste
Method:
1. Heat little oil in a pan over medium flame.
2. Fry the paneer cubes until golden.
3. Add the chopped onions, mint leaves, chilli powder and garam masala powder.
4. Saute for a minute or two.
5. Remove and transfer to a bowl.
6. Add the mashed potatoes, green peas, juice and zest of lemon and mango chutney.
7. Add a little salt (if desired) and mix well.
8. Keep aside.
9. Separate the pastry sheets and brush them lightly with the melted butter. Cut them in half if required.
10. Add 1 tblsp of the potato-paneer mixture to one end of the sheet.
11. Fold over, covering the mixture, to make a triangle.
12. Keep folding until you reach the end of the sheet.
13. Brush the edges with some more butter and seal tightly.
14. Heat oil in a deep frying pan over medium flame.
15. Fry the prepared samosas until light golden brown and cooked through.
16. Remove and drain excess oil.
17. Alternatively, bake the samosas in a preheated oven at 200C for about 30 minutes.
18. Serve hot with mint chutney and ketchup.