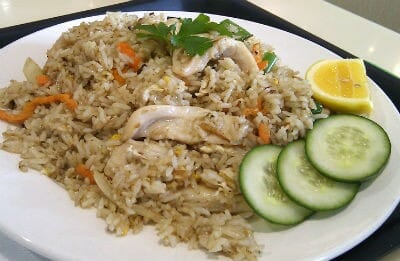 Ingredients:
Rice – 2 cups, cooked, crumbled
Oil – 1 tblsp
Garlic – 1/2 tblsp, coarsely chopped
Onion – 1/4 cup, chopped
Chicken – 50 gms, thinly sliced into strips (For a vegetarian version, omit chicken)
Egg – 1, small, beaten
Fish Sauce (or Soy Sauce) – 1 tblsp (use Soy Sauce for a vegetarian version)
Sugar – 1/2 tsp
Spring Onions – 1, finely sliced
Coriander Leaves – few, chopped
To serve:
Cucumber – 1/2, sliced
Lemon Wedges
Method:
1. Heat oil in a large pan over high heat.
2. Add the onions and garlic.
3. Toss well for a minute.
4. Add the chicken strips and cook till it is cooked, about 2 minutes.
5. Add the egg and toss well to scramble it.
6. Add the cooked rice, fish sauce, sugar and spring onions.
7. Cook till the rice is tender.
8. Transfer to a serving plate.
9. Garnish with coriander leaves, cucumber slices and lemon wedge.
10. Serve accompanied by a small bowl of fish sauce with chopped chillies.
Note: For a vegetarian version, omit the chicken and use soy sauce.