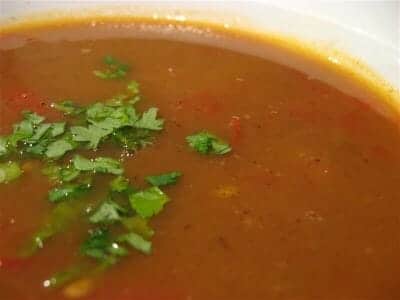 Ingredients:
Moong Dal – 1/4 cup
Tomatoes – 3
Black Peppercorns – 1 1/2 tsp
Turmeric Powder – 1 tsp
Asafoetida Powder – 1 tsp
Cumin Seeds – 1 tsp
Mustard Seeds – 1 tsp
Ghee – 1 tsp
Curry Leaves – few
Coriander Leaves – few
Salt as per taste
Method:
1. Pressure cook the dal with turmeric powder and asafoetida powder till 1 whistle.
2. Mash well.
3. Dry roast the cumin seeds, peppercorns and curry leaves for 30 seconds.
4. Remove and grind to a coarse powder.
5. Roast the tomatoes over an open flame until the skin is charred.
6. Remove the skin and mash well.
7. Heat 2 cups of water in a pan over medium flame.
8. Add the moong dal, tomatoes and salt.
9. When it starts to boil, switch off the flame.
10. Heat ghee in a pan.
11. Fry the ground powder for 30 seconds and add to the rasam.
12. Garnish with coriander leaves.
13. Serve hot.
Note: image is for illustration purposes only and not that of the actual recipe.