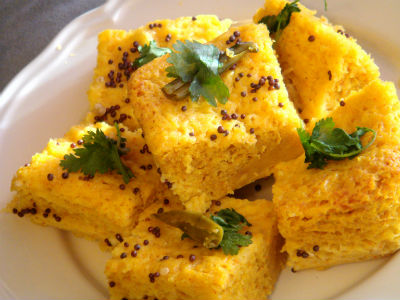 Ingredients:
Besan Flour – 150 gms
Plain Yogurt – 1/2 cup, whisked
Green Chillies – 2, small, ground to a paste
Ginger Paste – 1/2 tsp
Sugar – 1 tsp, powdered
Turmeric Powder – a pinch
Salt as per taste
Lemon Juice – 2 tsp
Baking Soda – 1/2 tsp
Oil – 1/2 tblsp
For tempering:
Oil – 1 tsp
Green Chillies – 4
Mustard Seeds – 1 to 2 tsp
Curry Leaves – few
Water – 3 to 4 tblsp
For garnish:
Coriander Leaves – 1/4 cup, finely chopped
Coconut – 2 tblsp, grated
Method:
1. Combine the first seven ingredients to make a smooth batter.
2. Grease a baking dish and keep aside.
3. Mix the baking soda, oil and lemon juice.
4. Add to the batter and mix.
5. Pour the batter into the greased pan and steam cook for 10 minutes.
6. Remove and cool.
7. Then cut into squares or cubes.
8. Heat oil for tempering and fry the tempering ingredients.
9. Pour over the dhokla pieces.
10. Garnish with coriander leaves and coconut.
11. Serve.