The meal most often relished on the occasion of Christmas is referred to as Christmas dinner. In accordance with the cultural variations around the world, the Christmas dinner meals too differ from place to place. Recipe variations with turkey are common everywhere during the Christmas Eve.
In India, chicken or mutton biryani, and sometimes the expensive turkey biryani is prepared and consumed widely during the Christmas time. Desserts like kheer, puddings and cakes are served after a heavy meal of biryani. Here are more Christmas dinner ideas.
A Classic Christmas dinner has delicious dishes such as traditional roast turkey, turkey gravy, goose fat roast potatoes, stuffed turkey, empire roast chicken, kofta (either beef or mutton keema) curry, Green Chicken pulav, Chicken Jalfreizi, etc among the non-veg dishes. While ideal vegetarian menus include green peas pulav, cauliflower and sweet corn pakora, roasted vegetable medley, spinach squares, roasted potatoes, sautéed potatoes, minted potato salad, etc.
Desserts like home-made Christmas cakes, Christmas pudding, Chocolate mousse sauce, spicy fruit salad, apple brandy cheese cake, spiced friends, chestnut fool, black forest trifle, walnut cranberry coffee cake, banana pancake, and black forest cheese cake among many others ensure that you wind up the Christmas meal gaily.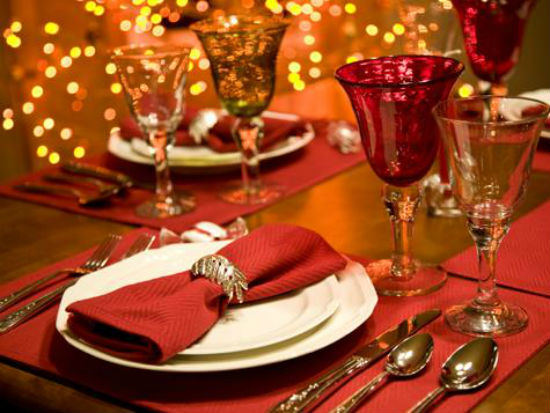 Below given are a few main Christmas menus:
Tandoori Chicken
The traditional Indian Tandoori Chicken is made by marinating chicken in lemon juice, yogurt and lots of spices for more than 8 hours, and then grilling it. It is quite easy to make and is a perfect lip smacking Christmas dinner recipe.
Mughlai Biryani
Mughlai Biryani has its origin as a royal menu; some 500 years ago kings ate this. It perfectly suits any Indian Christmas party. Its combination of ingredients reflects the authentic taste of Mughlai cooking style. Spices like clove, cinnamon, cardamom, and saffron tickle ones taste buds making the dish a royal delicacy.
Pork Vindaloo
Pork Vindaloo is an absolutely delicious dish from the Goan cuisine which would serve as a great treat for the pork lovers. It tastes good with both plain rice as well as jeera rice. This tangy yet spicy dish is flavored with green chillies, ginger, cinnamon, cloves, vinegar and garlic. The raisins and tamarinds in the dish account for the sweety sour undertone in it.
Sanna
Sannas are Goan steamed rice cakes which are soft, warm and fluffy. They can be perfect for Christmas dinner when served with chicken, mutton or turkey curry.
Shami Kabab
Shami Kabab is a lip smacking snack consumed in India and Pakistan. Minced mutton or beef is mixed with a lot of spices and channa dal, and then rolled into kababs which are pan fried. These taste great with mint coriander chutney.
Nargisi Kofta
The Exotic tasting Nargisi Kofta is simple to prepare, but tastes really great as though you put loads of effort into it. This food hails from the Mughlai cuisine, and is made with any kind of minced meat, be it beef, chicken, turkey or mutton. The koftas in this dish are a desi version of Scotch eggs. They taste absolutely delicious.
Yakhni Pulao
This delicious rice dish is a traditional meal of North India. Made using Basmati rice, this dish is many people's favorite. It would take you by surprise when you eat it, for; it is absolutely delicate and light as compared to its other pulao counterparts. Aromatic spices and mutton cooked together with this scented rice wins your heart for sure!
Chicken Tikka Masala
Chicken Tikka Masala is smoky flavored, delicious, thick and creamy gravy from the Indian cuisine. Small pieces of chicken pre-marinated in spices and yogurt are grilled and added to the creamy gravy. It is easy to make, and when served with hot Indian breads like naan, chappati, roti, etc they taste excellent.