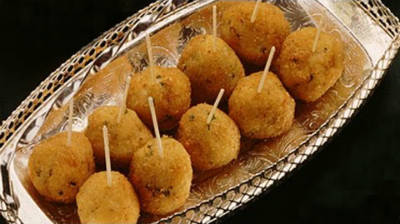 Ingredients:
Sweet Corn Kernels – 1 cup, coarsely ground
Onion – 1, finely chopped
Green Chillies – 2
Coriander Leaves – handful
Red Chilli Powder – 1 tsp
Garam Masala Powder – 1/2 tsp
Paneer – 1/2 cup, grated
Maida – 1 tsp, mixed with 1 tblsp water
Breadcrumbs – as required
Salt as per taste
Oil for frying

Method:
1. Grind together the onions, green chillies and coriander leaves to a paste.
2. Add turmeric powder, garam masala powder and salt.
3. Mix well and add the sweet corns.
4. Add red chilli powder, paneer and mix well.
5. Shape the mixture into small/medium balls.
6. Dip this into the maida batter and roll them in breadcrumbs (ensure the balls are coated evenly).
7. Heat oil in a deep frying pan.
8. Fry the prepared balls till golden brown.
9. Remove and drain excess oil.
10. Serve with chutney of choice.