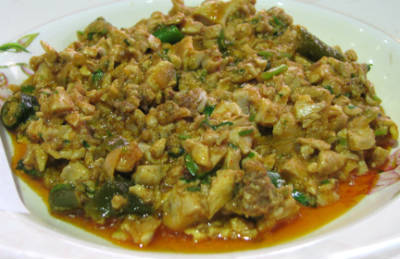 Ingredients:
Goat's Brain – 6
Onions – 2, finely chopped
Tomatoes – 4, finely chopped
Ginger – 1/2 inch piece, finely chopped
Garlic – 10 cloves, finely chopped
Turmeric Powder – 1 tsp
Red Chilli Powder – 1 tsp
Coriander Powder – 2 tsp
Juice of 1 Lime
Coriander Leaves – 5 to 6 tblsp, chopped
Salt – 1 tsp + 2 tsp
Oil – 6 tsp
Green Chillies – 2, slit
Cumin Seeds – 1 tsp
Cinnamon – 1/2 inch stick
Butter – 3 to 4 tsp
Method:
1. Boil the goat's brain with 1 tsp salt and transfer to a frying pan.
2. Pour enough water to cover and bring to a boil again.
3. Reduce flame and simmer till soft and cooked.
4. Using a spoon, remove the scum that rises to the top.
5. Remove and drain excess water. Keep aside.
6. Heat oil in apan.
7. Fry the green chillies, cumin seeds and cinnamon stick for a minute or two.
8. Saute the onions till golden.
9. Add the ginger and garlic.
10. Fry till soft.
11. Add the turmeric powder, red chilli powder, coriander powder and stir to mix well.
12. Increase flame to high and add some water.
13. Stir well.
14. Add the tomatoes and salt.
15. Reduce flame to medium and fry till the tomatoes turn pulpy.
16. When the oil starts to float on top, add the brains.
17. Stir well until scrambled and coated with the masala.
18. Reduce flame and cover the pan with a lid.
19. Simmer for 10 minutes or until the brains are soft.
20. Switch off the heat and mix well.
21. Add the lime juice, butter and coriander leaves.
22. Gently stir and remove to a serving bowl.
23. Serve hot with roti.
Subscribe to our Newsletter
Receive the latest recipes & kitchen tips !