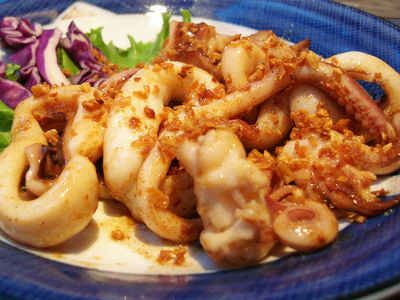 Ingredients:
Squid – 250 gms
Oil – 1/2 tblsp
Garlic – 3 cloves, finely sliced
Ginger – 1 inch piece, sliced
Red Chillies – 2, small, chopped
Spring Onions – 2, chopped
Celery Stalk – 1, chopped
Salt as per taste
For the sauce:
Rice Wine – 1 tsp
Sugar – 1/2 tsp
Sesame Oil – 1 tblsp
Soy Sauce – 1/2 tblsp
Brown Sugar – 1/4 tblsp
Water – 1/2 tblsp
Method:
1. Mix all the sauce ingredients and keep aside.
2. Remove the tentacles, skin and hard beaky portions of the squid.
3. Clean well and cut into small pieces.
4. Keep aside to dry.
5. Heat oil in a pan over medium flame.
6. Fry the ginger, garlic and red chillies for a minute.
7. Add the spring onions, celery and squid.
8. Increase flame to high and cook for 45 seconds.
9. Add the prepared sauce and stir-fry for 3 minutes.
10. Remove and serve.
image credit: flickr.com/photos/mmmaki/3134822824/