A simple and easy to make evening snack or starter with Zucchini.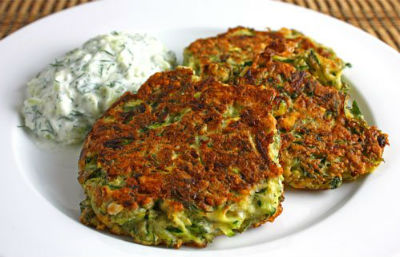 Ingredients:
Zucchini – 1 kg, grated
Onions – 2, grated
Garlic – 2 cloves, finely chopped
Feta Cheese – 200 gms, crumbled
Parsley – 4 tblsp, finely chopped
Eggs – 4, beaten
Maida – 2/3 cup
Rice Flour – 4 tblsp
Black Pepper Powder as per taste
Olive Oil as required
Sea Salt as per taste
Method:
1. Sprinkle salt on the grated zucchini and toss well.
2. Keep aside for 20 minutes on a colander to drain.
3. Then rinse and squeeze well to remove as much water as possible. Pat dry.
4. Mix the dried zucchini with onions, garlic, cheese, parsley and eggs in a large bowl.
5. Add the maida, rice flour, black pepper powder and mix well.
6. Heat a little oil in a non stick frying pan.
7. Pinch small balls of the batter and flatten them lightly.
8. Place them into the hot pan and cook for 2 minutes on each side or until golden brown.
9. Remove and drain excess oil.
10. Serve hot with ketchup.
image credit: closetcooking.com