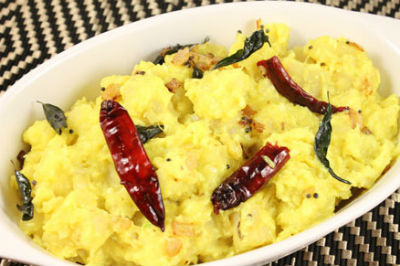 Ingredients:
Tapioca – 1 kg, peeled, cubed
Salt – 2 tsp
Grind to a coarse paste:
Coconut – 1, grated
Small Onions – 8 to 10, chopped
Dry Red Chillies – 15 to 20, broken
Cumin Powder – 1/4 tsp
Turmeric Powder – 1 tsp
For tempering:
Oil – 3 tblsp
Mustard Seeds – 2 tsp
Small Onions – 2, chopped
Curry Leaves – handful
Method:
1. Heat a pan with enough water to cover the tapioca pieces.
2. Cook over high heat for 45 minutes till cooked.
3. Drain, add salt and mash lightly.
4. Return the pan to low heat and add the ground paste.
5. Cook for 5 to 6 minutes, stirring from time to time.
6. Heat oil for tempering in a small pan.
7. Fry the mustard seeds till they start to splutter.
8. Add the remaining ingredients and fry till onions turn brown.
9. Pour over the tapioca and mix well.
10. Serve hot.
image credit: thasneem