Deep (and crispy) fried potato shells filled with paneer-potato mixture, marinated in a yogurt sauce and baked.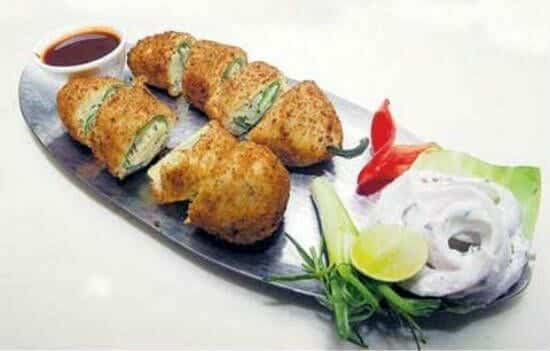 Ingredients:
Potatoes – 4 to 8, depending on size (if using big potatoes then 4, if using medium then 8)
Bengal Gram Dal – 1/3 cup
Papads – 4 small or 2 medium
Ginger Garlic Paste – 2 tblsp + 2 tsp
Plain Yogurt – 2 cups, whisked
Paneer – 1 cup, grated
Chaat Masala Powder – 1 1/4 tblsp
Green Chillies – 3, chopped
Black Salt – 1 tsp
Garam Masala Powder – 2 tsp
Red Chilli Powder – 2 tsp
Coriander Leaves – few
Mustard Oil – 3 to 4 tblsp
Salt as per taste
Oil as required for frying (1.5 litres)
Method:
1. Peel the potatoes and cut them in half.
2. Heat a pan of water over medium flame and bring to a boil.
3. Add the potatoes and simmer until tender.
4. Gently scoop out the insides leaving a shell all around.
5. Keep the scooped out flesh aside.
6. Heat a nonstick pan over medium flame.
7. Dry roast the dal until golden.
8. Remove, cool and grind to a fine powder.
9. Heat oil in a deep frying pan.
10. Fry the potato shells until the outer is golden brown.
11. Remove and drain excess oil.
12. Fry the papads in the same oil and drain excess oil.
13. Keep them aside until required.
14. Heat 2 tblsp oil in a nonstick pan.
15. Add the 2 tblsp ginger garlic paste and stir-fry for 30 seconds.
16. Add the reserved potato flesh and little salt.
17. Cook for 5 minutes.
18. Whisk the yogurt in a bowl.
19. Add a little salt, 2 tsp ginger garlic paste, black salt, garam masala powder, red chilli powder, few coriander leaves and dry roasted dal.
20. Mix well.
21. Add mustard oil and mix again. Keep aside.
22. Add paneer to a bowl along with chaat masala powder, coriander leaves, green chillies, salt and potato mixture.
23. Crush the papads and mix well.
24. Fill the potato shells with the paneer-potato mixture
25. Gently drop them in the yogurt mixture and mix gently.
26. Keep aside for 60 to 90 minutes.
26. Then transfer them to a greased baking tray lined with parchment paper.
27. Bake in a preheated oven at 350F/180C for 20 to 25 minutes.
28. Serve as it is as a snack or serve with naan.
Subscribe to our Newsletter
Receive the latest recipes & kitchen tips !