Also known as Chilli Soy Chicken (or Soy Chilli Chicken), this is a delicious Chinese inspired chicken dish. Chicken pieces are marinated, fried and mixed in a sauce. This can be made into a gravy like dish or as a dry dish.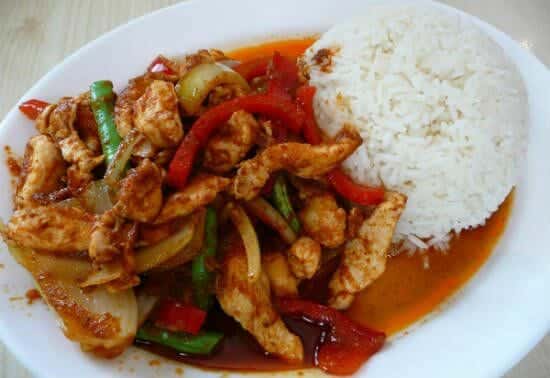 Ingredients:
Chicken – 300 gms, boneless, skinless, chopped
Ginger Garlic Paste – 2 tsp
Garlic – 4 tsp, finely chopped
Ginger – 4 tsp, finely grated
Onions – 100 gms, finely chopped
Green Chillies – 2 to 3, finely chopped
Capsicums – 3, small, chopped (one of each colour, if available)
Chilli Paste – 1 tsp (available in supermarkets)
Coriander Leaves – handful, chopped
Vinegar – 1/2 tsp
Spring Onions – 2 tsp, finely chopped
Soy Sauce – 2 tsp
Salt as per taste
Oil as required
Ajinomoto – a pinch
Method:
1. Combine the chicken, ginger garlic paste and salt in a large bowl.
2. Mix well until evenly coated. Keep aside for 2 to 3 minutes.
3. Heat oil in a frying pan.
4. Add the chicken pieces and fry until light golden brown.
5. Remove and keep aside in a warm place.
6. Heat 2 tlsp oil in a pan over medium flame.
7. Saute the onions, capsicums, ginger, garlic and green chillies for 3 to 5 minutes.
8. Add enough water and stir.
9. Add the chilli paste, 1/2 tsp salt, ajinomoto, vinegar and soy sauce.
10. Mix well and cook for 2 to 3 minutes.
11. Add the fried chicken pieces and stir well for 2 minutes or until the chicken pieces are evenly coated.
12. Switch off the flame.
13. Garnish with spring onions and coriander leaves.
14. Serve with rice.
Tip: For a dry version, reduce the amount of water or cook until all water has been absorbed/evaporated.