A simple and tasty alternative for  vegetarians. Serve as a breakfast dish.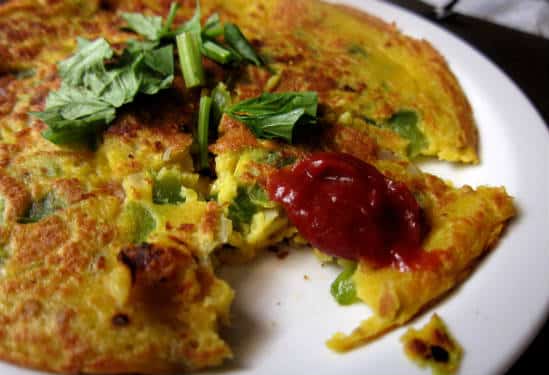 Ingredients:
Chickpeas (Besan) Flour – 3 cups
Water – 2 1/2 to 3 cups
Onion – 1/2 cup, finely chopped
Tomatoes – 1/2 cup, finely chopped
Coriander Leaves – handful, finely chopped
Ginger – 1/4 inch piece, peeled, minced
Turmeric Powder – a pinch
Green Chilli – 1, minced
Oil – 2 tblsp
Salt as per taste
Method:
1. Mix the flour and a pinch of salt in a bowl.
2. Gently add water and whisk well to a smooth batter without any lumps.
3. Add the chopped onions, tomatoes, coriander leaves, turmeric powder, green chilli and ginger.
4. Mix well.
5. Heat a nonstick tawa over medium flame.
6. Add 1 tsp oil.
7. Pour a ladleful of the batter and spread evenly (or swirl the pan).
8. Cook for a minute on both sides until lightly browned.
9. Remove and serve at once.