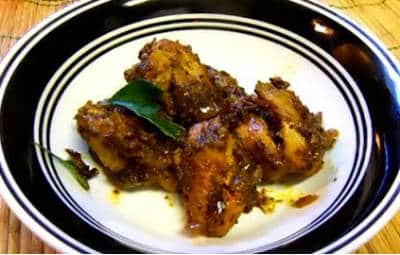 Ingredients:
Naatu Kozhi (Country Chicken) – 500 gms, cleaned, washed and drained, chopped
Oil as required
Curry Leaves – few
Sambar Onions (Shallots) – 2 cup, peeled, ground to a paste (adjust according to taste)
Ginger Garlic Paste – 2 tsp
Salt as per taste
Cumin Seeds – little
Peppercorns – few
Dry Red Chillies – 2 to 3
Method:
1. Heat oil in a pan over medium flame.
2. Add the ground onions and fry for a minute.
3. Add ginger garlic paste and mix well.
4. Add the naatu kozhi pieces and salt.
5. Stir-fry for a few minutes.
6. In a separate pan, add a little oil and fry the peppercorns, cumin seeds and dry red chillies.
7. Remove and grind to a fine powder.
8. Sprinkle this over the chicken pieces.
9. Cook until all moisture has evaporated and the chicken pieces are crispy and cooked.
10. Remove and serve hot as a side dish with rice, parotta or roti.
Note: image is for illustration purposes only and not that of the actual recipe.