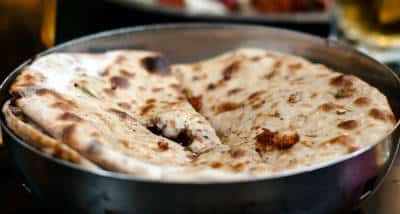 Ingredients:
Corn Flour – 2 cups
Spinach – 1 bunch, cleaned, washed, chopped
Cauliflower – 1 cup, cleaned, washed, chopped
Ghee – 2 tblsp
Red Chilli Powder – 1/2 tsp
Salt as per taste
Method:
1. Boil the cauliflower and spinach in little water.
2. Drain excess water and transfer to a bowl.
3. Add salt, ghee, red chilli powder, corn flour and mix well to a pliable dough consistency.
4. Make small balls and roll them out into small/medium parathas.
5. Heat a tawa over medium flame.
6. Cook the prepared parathas, adding little ghee to the sides, on both sides and remove.
7. Serve with side dish of choice.
Subscribe to our Newsletter
Receive the latest recipes & kitchen tips !