New Year is the perfect time to arrange parties and invite guests. The party feels complete with varieties of foods and drinks. Both alcoholic and non alcoholic beverages must be kept on the serving table for entertaining the guests of all age groups. Mocktails are the combination of drinks in a subtle way to keep out alcohol from the drink. Colorful drinks will definitely make your guests feel satisfied. Here is a list of some fabulous non alcoholic drinks that can be prepared in minutes.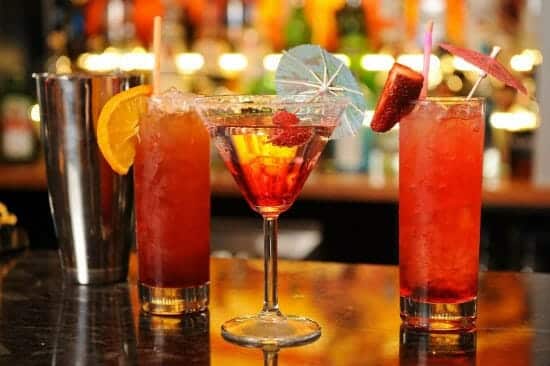 Arnold Palmer: This is a yellow drink containing same quantities of iced tea and lemonade mixed in a Collins glass containing ice. Decoration can be done with sprig of mint and lemon ring on the glass top.
Baby Bellini: This wondrous mocktail looks quite like champagne and contains peach nectar and chilled sparkling cider. Champagne flute must be chosen for serving this drink with a piece of ice cube on the glass.
Banana Smoothie: This frothy smoothie mix has cream color. It contains 2 sliced bananas, vanilla yogurt, ice cubes, vanilla extract and honey. Serving in a cordial glass with a red cherry on top makes it look extra special.
Autumnal Temptations: A classy mocktail served in a Collins glass with topping of Lavender soda for extra punch. The drink looks fabulous and contains apricot nectar, agave nectar and grapefruit juice.
Orange Julius: This can be served on hurricane glass containing fresh orange juice, milk, sugar, vanilla extract and vanilla ice cream.
Pussyfoot: A wondrous colorful drink containing lime juice, lemon juice, orange juice, egg yolk and sparkling water on top. Serve it in a Collins glass with an orange slice tucked on the glass top.
Soda Shop Cola: This drink contains cherry juice, vanilla extract and cola. High ball glass is perfect to serve it with a lemon wedge on top.
Virgin Miami Vice: A beautiful mocktail having pineapple juice, coconut cream, strawberry puree, lime juice, ice and syrup. Serving is done in a Highball glass with a strawberry on top.
Berry Patch: This amazing non alcoholic soothing drink comprises of a mixture of berries like raspberries, strawberries and blueberries with milk and vanilla extract. Serve in a Collins glass with fresh berries on top.
Cinderella: Another refreshing non alcoholic drink comprising of lemon juice, orange juice, pineapple juice, ginger ale and grenadine. Served in chilled cocktail glass with orange slices and pineapple cubes on top.
Coco Colada: Simple mocktail with coconut cream and pineapple juice in a chilled Hurricane glass with orange slice on top.
Green Grape Glacier: Very simple mocktail with seedless green grapes, sparkling water and white grape juice served in a Highball glass with chilled grapes on top.
Spring Fever: Utterly simple drink containing lemon juice, mango syrup, apple juice and blood orange juice in Cocktail glass half filled with crushed ice.
Sundowner: Mixture of white grape juice and sparkling water in a stemed white wine glass with a sprig of mint on top.
Sweet Sunrise: Wonderfully refreshing containing only orange juice and grenadine in highball glass with an orange slice on top.
Twilight Dove: Great colored mocktail having cranberry juice, agave nectar, grape juice finished with lavender soda in a chilled cocktail glass.
Vienna Soother: Highly refreshing beverage served in old fashioned glass comprising of coffee, cream, chocolate syrup and cinnamon.
Hot Not Noddy: Hot tea, honey, lemon juice, sprinkle of cinnamon and nutmeg powder and a pinch of clove powder containing drink served in an Irish coffee glass with a lemon wedge on top.
Lemonade: All time favorite drink served in a cocktail shaker comprising of distilled water, fresh juice from lemon and simple syrup with a lemon wedge on top.
Virgin Mary: Red drink having tomato juice, lemon juice, Worchester sauce, celery salt, hot pepper, Tabasco sauce with a celery stalk on top served in a Highball glass with ice.
Try these mocktails at home and make something interesting at the New Year party. These are suitable for children, pregnant women, nursing mothers and people with medical conditions coming in the party.