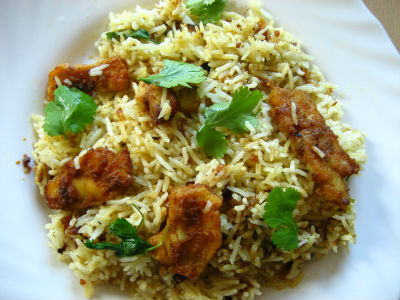 Ingredients:
Fish Fillets – 1 kg, washed, cut into small-medium pieces
Basmati Rice – 5 cups. washed, drained
Ghee – 1 cup + 3 tblsp
Salt – 4 tsp
Turmeric Powder – 4 tsp
Sultanas – 5 tblsp
Cashewnuts – 5 tblsp
Onions – 5 to 6, chopped
Red Chilli Powder – 4 tsp
Coriander Powder – 2 tsp
Cinnamon – 2 two inch pieces, broken
Cloves – 6 to 8
Tomatoes – 5 to 6, chopped
Curd – 1 cup, whisked
For marinade:
Lime Juice – 2 cups
Turmeric Powder – 1 tsp
Method:
1. Mix the marinade ingredients and rub into fish pieces.
2. Keep aside for 30 to 45 minutes to marinate.
3. Heat 2 tblsp ghee in a pan.
4. Saute rice for 10 to 15 minutes.
5. Add 2 tsp salt, 1 tsp turmeric powder and 3 litres of warm water.
6. Mix gently and bring to a boil.
7. Lower heat, cover pan with a lid and cook till water is absorbed.
8. Heat 1 cup of ghee.
9. Fry the sultanasa and remove.
10. Add cashewnuts and fry till golden brown.
11. Fry onions in the same pan till golden brown.
12. Red heat, add chilli powder, coriander powder and 3 tsp turrmeric powder.
13. Add 8 to 10 tsp of water and the whole spices.
14. Fry for 3 to 4 tsp, stirring all the time.
15. Add the fish pieces along with 2 tsp salt and saute for 5 to 8 minutes.
16. Pour 1 cup of water and bring to a boil.
17. Add tomatoes and curd.
18. Reduce heat and cook till gravy thickens.
19. Grease a heavy bottomed pan with 1 tblsp ghee.
20. Spread the fish pieces, rice and reserved sultanas and cashewnuts in layers.
21. Repeat until the topmost layer is rice garnished with sultanas and cashewnuts.
22. Cover pan and cook over low heat for 5 to 8 minutes.
23. Remove and serve hot, garnish with fried onions or spring onions.
Note: image is for illustration purposes only and not that of the actual recipe.