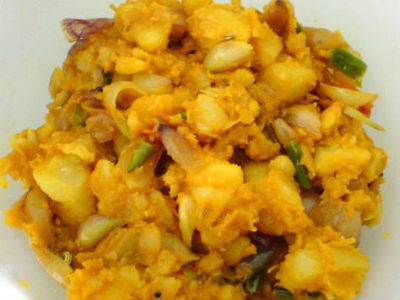 Ingredients:
Potatoes – 500 gms, boiled, peeled
Onions – 2, finely chopped
Curd – 1 cup
Dry Red Chillies – 6
Coriander Seeds – 1 tsp
Black Peppercorns – 1 tsp
Fenugreek – 1 tsp
Cumin Seeds – 1/2 tsp
Cinnamon – a small piece
Cloves – 2
Cardamom – 2
Ginger – 1/2 inch piece
Coriander Leaves – few
Oil as required
Salt as per taste
Method:
1. Dry roast the dry red chillies, coriander seeds, peppercorns, cumin, cinnamon, cloves, cardamom and ginger.
2. Cool and then grind to a fine powder.
3. Prick the potatoes with a fork and soak it in curd for 30 minutes.
4. Heat oil in a heavy bottomed pan over medium flame.
5. Saute the onions and add the potatoes.
6. Pour a little water and add the ground powder.
7. Simmer for a few minutes till the gravy thickens.
8. Garnish with coriander leaves.
9. Serve hot.
Tip: Adjust the gravy by adding more water, if desired.
Note: image is for illustration purposes only and not that of the actual recipe.