Yakhni Pulao is a popular North Indian/Pakistani dish made by cooking Lamb (or Chicken) meat in rich aromatic spices and then mixed with basmati rice. Typical this pulao is made during special occasions like weddings or parties.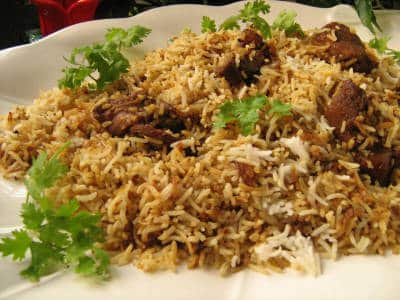 Ingredients:
Lamb – 750 gms (with bones)
Cardamoms – 2 + 2
Eggs – 2, hard-boiled, halved
Green Peas – 1/2 cup, cooked
Black Peppercorns – 5
Salt – 2 to 2 1/2 tsp
Onion – 1, small + 1, medium, finely sliced
Cloves – 2
Basmati Rice – 250 gms
Ghee – 1/4 cup
Saffron Strands – a pinch
Garlic – 1 clove, crushed
Ginger – 1/4 tsp, finely grated
Garam Masala Powder – 1/4 tsp
Cardamom Powder – 1/4 tsp
Rose Water – 2 tblsp
Raisins – 2 tblsp
Almonds – 2 tblsp, toasted, to garnish
Fried Onions – few, to garnish
Method:
1. Heat a large pan of water over medium flame.
2. Add the lamb, 2 cardamoms, peppercorns, 1 tsp of salt and sliced small onion and cloves.
3. Bring to a boil and reduce flame to low.
4. Simmer for an hour.
5. Strain into a large pan and reserve about 2 cups of water.
6. Cool and remove the lamb meat from the bones and cut into bite-sized pieces. Discard the bones.
7. Wash the basmatin rice and drain well.
8. Heat ghee in a heavy-bottomed pan.
9. Add the sliced medium onions and saute until golden.
10. Add the saffron strands, garlic and ginger.
11. Cook for a minute.
12. Add the rice and stir well.
13. Cook for 3 to 4 minutes, stirring from time to time.
14. Add the reserved water, garam masala powder, cardamoms, salt, rose water and raisins.
15. Add the lamb pieces and mix well.
16. Cover the pan with a lid and cook on low flame for 20 minutes.
17. Garnish with fried onions, eggs, almonds and peas.
18. Serve with mint raita or coriander raita.
image via my farm store
Subscribe to our Newsletter
Receive the latest recipes & kitchen tips !