Sandwiches are a meal by themselves. Quick and easy to prepare, they can be eaten any time of the day.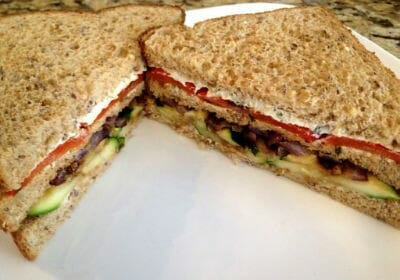 Ingredients:
Bread Slices – 9 slices, crusts removed
Butter – 100 gms
Mint Chutney – 3 tblsp
Cucumber – 1, thinly sliced
Carrots – 2, sliced into thin rounds
Tomatoes – 2, sliced into thin rounds
Green Chillies – 6, very finely chopped
Onion – 2, sliced thinly
Coriander Leaves – 2 tblsp, very finely chopped
Salt as per taste
Black Pepper – as per taste, ground
Method:
1. Butter all the slices of bread.
2. Spread 1 to 2 tsp of mint chutney.
3. Arrange 3 to 4 cucumber and carrot slices on it.
4. Keep one more bread slice on top the cucumber and carrots.
5. Arrange sliced onions and tomatoes.
6. Add chopped green chillies, salt and pepper powder.
7. Sprinkle little coriander leaves on top and cover with one more slice of bread.
8. Press well and cut into squares.
9. Serve with tomato ketchup.