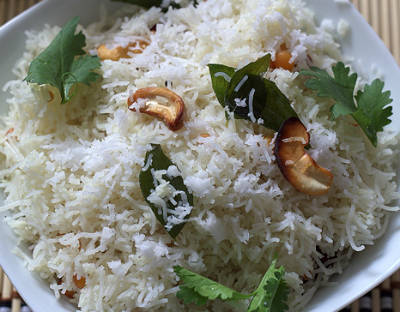 Ingredients:
Raw Rice Flour – 1 cup
Coconut – 1/2 cup, grated
Urad Dal – 1 tsp
Bengal Gram Dal – 1 tsp
Dry Red Chillies – 2
Mustard Seeds – 1/2 tsp
Curry Leaves – few
Coriander Leaves – few
Asafoetida Powder – little
Oil – 1 tsp
Salt as per taste
Method:
1. Heat a pan over medium flame.
2. Pour 2 cups of water (2 cups for 1 cup of flour) and add 1 tsp oil.
3. Add little salt and bring to a boil.
4. Switch off the flame and remove the pan from the heat.
5. Add the rice flour and mix well to a pliable, soft dough.
6. Using a sevai maker, press to squeeze onto idli moulds and steam cook till done. Remove and cool.
7. Heat oil in a pan.
8. Fry the mustard seeds, urad dal, chana dal and dry red chillies for 30 to 45 seconds.
9. Add the grated coconut and stir well.
10. Add the prepared sevai and mix well.
11. Sprinkle coriander leaves, curry leaves, asafoetida powder and salt.
12. Stir to mix well.
13. Serve at once.
14. Best served warm.
15. If desired, you can also add fried cashewnuts, almonds or peanuts.
image credit: akilaskitchen
Subscribe to our Newsletter
Receive the latest recipes & kitchen tips !