With more and more people becoming health conscious today, there are many forums where health benefits of salad are discussed at length. Eating salads are not only relevant only to those who are trying to lose weight, but are equally important for anyone trying to maintain their health. We are here to discuss some of the several health benefits of salad, that we hope will serve as an eye-opener to anyone trying to inculcate healthy and nutritious food habits.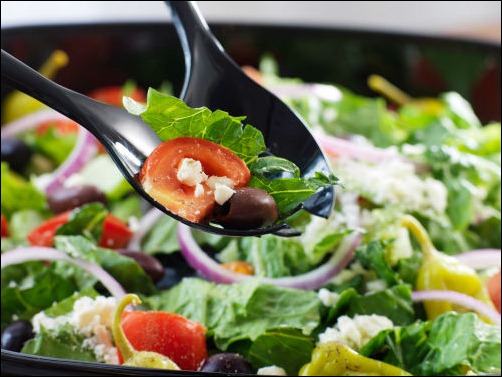 A salad a day
A recently concluded study on healthy food habits has proved that those who even consumed a single bowl of salad a day, are healthier than those who do not eat any raw vegetables during the course of the day. It is in fact quite surprising to learn the health benefits of salad, even if it is a single serving of salad in a day. A single salad provides an individual a supply of important vitamins such as vitamin C, B6 and E as well as folic acid. These are important nutrients thatboost immunity and reduce the risk of various diseases and lifestyle disorders such as obesity.
Thanks to our fast paced lives we do not even realize the harm that we are doing to our physical beings. The same study proves that less than 50 per cent of us Americans do not consume the nominal standards in raw fruit and vegetable consumption as has prescribed by health experts. But the good news is that, we can rectify this if we take into consideration the health benefits of salad.
The raw route to health
Consuming salads will give us the required source of vitamins that are water soluble. Eating raw vegetables and fruits in forms of salads are also beneficial because they give us the fiber content and can thus aid digestion. The most important of the health benefits of salad, is that it regularizes bowel movement and makes one more energetic and capable to work.
Just because we are discussing the various health benefits of salad, does not mean that consumption of these salads should seem like a task and that they are unpalatable. In fact green salads can enhance the taste and flavour of any meal. If accompanied with a good salad, the taste meter of any meal whether it is protein based or fat based can go up manifold, not to mention its nutritional value!
There are numerous websites these days that not only tell you all about the health benefits of salad, but have a lot of salad recipes that you can toss up in a matter of minutes. Just having a few fresh veggies and a few dressings and sauces at your disposal is good enough to toss up a tasty salad that will not only be good for your health, but will be extremely tasty as well! Once you are familiar with the health benefits of salad, you will certainly want to switch over to a healthier lifestyle. Just start with eating one salad a day and you will surely be asking for more!