Pongal is the harvest festival celebrated in
South India. This is like the Thanksgiving Day celebrated in the
U.S.
For Tamilians all over the world, these four days of Pongal festival is the biggest cultural event. There are loads of fun activities, great food and a variety of entertainment nowadays. Ah, kids – they just love Pongal because of all the fun they have like burning the old things on Bogi, buying new things the next day, watching movies and collect gifts from elders, playing around with the cows. There are hugs discounts and giveaways on Pongal in major shopping outlets and malls across
South India. What more would the kids enjoy?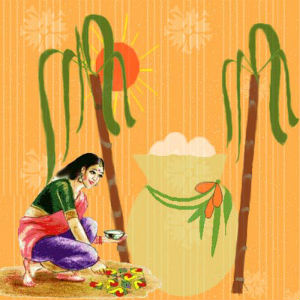 The first day of Pongal is called as Bogi. On this day, people get up early and start throwing away and destroying old clothes and various other things by burning them indicating the end of one year and the auspicious start of the new Tamil 'Thai' month. Nowadays, this event is more of a symbolic nature with kids loving to be a part of this activity where they burn up these things.
The second day, the main Pongal day finds people making a lot of delicious dishes. You just have to check out the list of recipes listed here which contains an exhaustive history of ancient dishes to modern Pongal recipes. New clothes, gifts, fun and frolic is what kids look forward to.
The third day is called Maattu Pongal, and it is a thanksgiving especially to cows and other farm animals which make happen the harvest. Kids love to decorate the horns of the animals with paint, flowers and bells. They are allowed to roam free and fed sweet rice and sugar cane.
The day of new beginnings usually has many regional movies getting released on this auspicious day. And being a holiday one can be sure of adults and kids crowding the theaters. Plenty of special programs are broadcasted on all TV channels to keep the people entertained. Elder kids just adore watching and knowing how their favorite movie celebrates Pongal and go gaga about movies released on this day. It just is special.
Kaanum Pongal, the final and fourth day of Pongal festival finds people visiting their relatives, family and friends to enjoy the festivities. Sugarcane chewing day is what I call this day. And kids out in the sub-urban areas and villages do nothing else the whole day than chew sugarcane. Oh yes, a lot of pocket money is received on this day.
Check out these recipes where you can involve your kids to try them out too. Shopping with discounts, great food, pocket money, out in the wild with animals, sugarcane, and Pongal – this festival is for the kids!!!