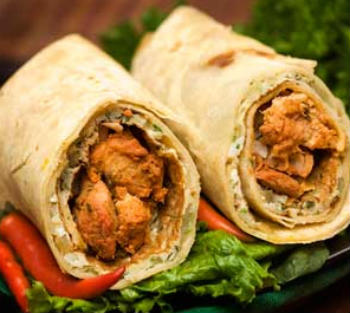 Ingredients:
Boneless Mutton Leg – 250 gms, cut into bite-sized chunks, washed, cleaned
Oil – 1 tsp
Butter – 3/4 tsp
Salt as per taste
Juice of 1 Lemon – divided
Parathas – 2, readymade or made well in advance
Onion – 1, finely sliced
Coriander Leaves – few, chopped
Mint Leaves – 2 tsp, chopped
Green Chillies – 2, chopped
Chaat Masala Powder – 1/4 tsp
For the marinade:
Ginger Garlic Paste – 2 tsp
Turmeric Powder – 1/4 tsp
Red Chilli Powder – 1/2 tsp
Coriander Powder – 1/2 tsp
Cumin Powder – 1/4 tsp
Juice of 1/2 Lemon
Green Chilli – 1, finely chopped
Oil – 1 tsp
Method:
1. Combine all the marinade ingredients in a bowl.
2. Add the mutton pieces and mix well.
3. Keep the bowl in the fridge for 4 hours and marinate the mutton pieces.
4. Heat oil in a frying pan over medium flame.
5. Remove the mutton from the fridge.
6. Sprinkle salt and keep aside for 5 to 10 minutes.
7. Fry the mutton pieces in hot oil until browned.
8. Remove and transfer them to a plate.
9. Keep only 1 tsp oil in the pan and add the fried mutton pieces.
10. Add butter and a little water.
11. Reduce heat to low and cook, covered, for 10 minutes or until the mutton pieces are tender and cooked.
12. Remove when the moisture has evaporated.
13. Add juice of 1/2 lemon and keep aside in a warm place.
14. Heat a tawa over medium flame.
15. Warm the parathas till hot and crisp.
16. Place a large spoonful of the mutton mixture on one side of the paratha.
17. Add some onions, mint leaves and coriander leaves.
18. Sprinkle some chaat masala and little lime juice.
19. Roll the paratha tightly.
20. Cut them into two if desired.
21. Serve at once with mint chutney.