Chicken Penne Arrabbiata is a classic Italian dish that is delicious and easy to make. Great for weekday lunch or dinner, it is a must have for any pasta lover.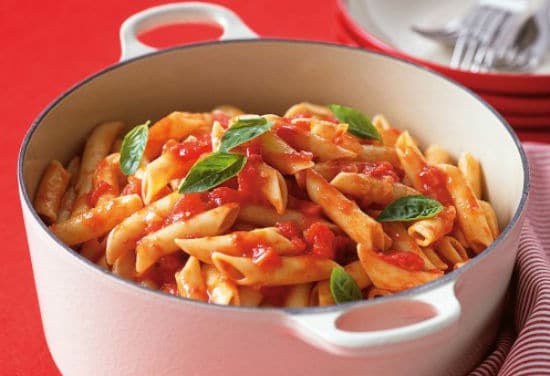 Ingredients:
Penne Pasta – 250 gms
Chicken Breast – 200 gms, boneless and skinless
Tomatoes – 200 gms, chopped
Garlic – 1 tsp, finely chopped
Chilli Flakes – 1/4 tsp
Grated Parmesan Cheese as required
Mixed Vegetables – 1/2 cup, chopped, boiled (as desired)
Olive Oil – 3 tsp
Mint Leaves (or Basil/Parsley) – small handful
Method:
1. Cook the pasta in salted water as per packet instructions until al dente.
2. Dice the chicken breast and keep aside.
3. Heat oil in a frying pan over medium flame. Fry the garlic for 30 seconds.
4. Sprinkle salt and pepper powder on the chicken pieces.
5. Add them to the hot pan and cook for 5 minutes or until browned.
6. Add the chilli flakes, tomatoes and cook until the chicken is cooked through.
7. Add salt as per taste.
8. Drain the pasta and add to the pan along with the vegetables.
9. Stir to mix well.
10. Garnish with grated cheese and mint leaves.
11. Serve.
Subscribe to our Newsletter
Receive the latest recipes & kitchen tips !