On July 11th, 2015, Team echoVME in association with Urban Tree Homes organized their first ever bloggers meet in The Beverley Hotel, Kilpauk. The event was by prior registration and around 100 bloggers participated in the event. The event aimed to provide a platform for bloggers to interact & network, recognize the bloggers community in Chennai and also announce the winners of "Urban Chennai Blogger Award!".
The event started off with a simple registration process followed by photo session in the photobooth outside the hall. Everyone received a goodie bag that contained a coloured badge, some promo pamplets of Urban Tree, T-Shirt and a Cap.
After the initial introductions and a round of Tambola, it was time for Shyam Renganathan's standup comedy. Shyam Renganathan is an actor, writer, theatre artist and part of Enna Da Rascals from The Stray Factory. This was followed by a presentation by the sponsor, Mr.Abhishek Mehta of Urban Tree Homes.
After this the bloggers were split into 4 groups based on the badge colour. Each group were then given a project of Urban Tree and was asked to enact a skit on how to promote the product (Adzap).
Finally, it was time for the Awards. The awards were divided into two – Best Urban Chennai Blog and Best Urban Chennai Bloggers, with 2 & 3 awardees in the respective categories.
In the category of "Best Urban Chennai Blog",  Awesome Cuisine won the 1st place and Pradeep Kumar took the other award for his blog Hellbound Bloggers.
The Best bloggers were Ganga Bharani Vasudevan (Author of Just You, Me And A Secret), Shrinidhi Hande and Aarthi Krishnakumar (who was not in the event).
The event also saw Rama Venugopal, Shreya and Sathya Narayan win the best #UrbanChennai most active tweeters prizes!
The event closed with High Tea and some networking. People munched on Pav Bhaji, Samosas, Kathi Rolls and Coffee while interacting with other participants.
It was a great event organized by Team echovMe and supported by Urban Tree Homes. Thanks a ton to all involved and look forward to more events like this.
Here are some pictures from the event (pictures were clicked and shared on twitter by the bloggers).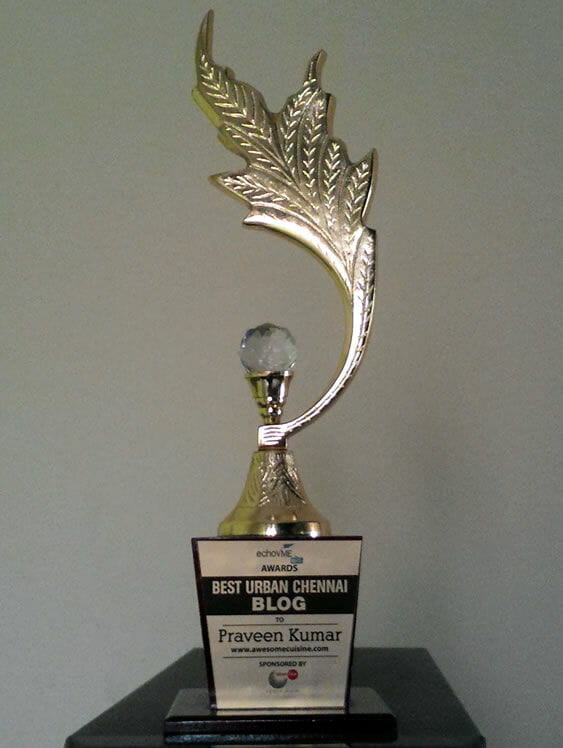 Bloggers queuing up for #UrbanChennai Bloggers meet! pic.twitter.com/EqC0wmBEnf

— echoVME (@echoVME) July 11, 2015
We had the bloggers say "WOW" and "Infinity" to pose and they obliged! 😀 #UrbanChennai comes to an end today! pic.twitter.com/YCjc6OtGNJ — echoVME (@echoVME) July 11, 2015
At the #UrbanChennai Bloggers meet @ Hotel Beverly @urbantreehomes pic.twitter.com/D84XNnc9zK

— Ankit Sancheti (@sanchank) July 11, 2015