The Romans regarded them as a gift from God and consumed them on occasions only.
The Pharaohs prized them as the best delicacy
The Greeks believed that these gave a secret strength for warriors in battle.
The Chinese treasured them as a health food, almost life giving.
Oh yes, we are romancing mushrooms today. Mushrooms have a long history and various myths surrounding them. But for us, their flavor and texture is ah, so wonderful. Today we would like to enlighten you with the nutritional benefits of mushroom.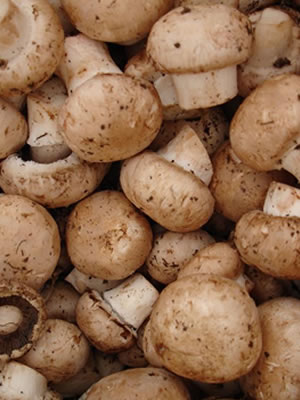 They can impart their own flavor to food or take on the flavor of other ingredients. Their flavor normally intensifies during cooking, and their texture holds up well even when you stir-fry and sauté them.
It is popular to add mushrooms to soups, salads, and sandwiches, or to use them as an appetizer. They also add an appealing touch to vegetable-based casseroles and stews.
We have around 50 different dishes prepared from mushrooms. You should check it out at this page.
Some of the Health Benefits of Mushrooms are:
The fiber and enzymes in mushrooms lower the cholesterol levels. So, for people on a diet, this is the best food. They contain about 80 – 90 percent of water.
Mushrooms are a rich source of potassium, which lowers elevated blood pressure and reduces the risk of stroke. It also has a good stock of copper, a mineral that has cardio protective properties.
Mushrooms contain riboflavin, niacin, and selenium. Selenium is an antioxidant which along with vitamin E protects cells from the damaging effects of free radicals. It lowers the probability of prostrate cancer and breast cancer.
Mushrooms can be an ideal low energy diet for diabetics. They contain natural insulin and enzymes which help breaking down of sugar or starch of the food. They also have certain compounds which help proper functioning of liver, pancreas and the other endocrinal glands, thereby promoting formation of insulin and its proper flow.
Ergothioneine, a powerful anti oxidant present in mushrooms is very effective in giving protection from free radicals as well as boosting up immunity. Mushrooms contain natural antibiotics (similar to penicillin, which itself is extracted from mushrooms) which inhibit microbial and other fungal infections. They also help heal ulcers and ulcerous wounds and protect them from infections. A good combination of vitamins A, B-Complex and C, found in mushrooms also strengthens immune system. Mushrooms are great in preventing cold and flu.
Mushrooms are the only vegetable and the second known source (after cod liver oil) to contain vitamin-D in edible form.
Mushrooms can even kill! Most of the mushrooms are not edible, are highly poisonous and look strikingly similar to their edible counterparts. Even certain edible mushrooms can go poisonous depending upon the substance they grow on. Don't ever try picking them up from woods unless you identify them very well.
Now onto the best part of the post! Let us have a look at few mushroom recipes from our vast mushroom section. Rice lovers, we have Mushroom rice and Gucchi biriyani and Gucchi pulao for you guys.
For the curry lovers, who like a dash of flavour of mushrooms with their main dish, check out Kadai mushroom, Spinach filled mushroom, stir fried morel Mushroom recipe, and mushroom peas pannier recipe for the roti lovers who love mushroom as the side dish.? And there is the plain old mushroom curry, prepared the old fashioned, but most tastiest way.
Fast lovers, here we come – Check out Mushroom sandwich, mushroom cutlet, mushroom caps and this exotic chiayou (a tangy mushroom dish). Want some more? Go ahead, visit this link!
We would love to extol not just all our recipes, but even this unique, healthy and exotic herb (call it vegetable or fungi if you like, but its flavor and taste remains the same) forever. But the best things are always left little said. So, explore, discover and enjoy all the unusual and delicious dishes we have to offer.
Have a fantastic mushroom weekend.