Breakfast is the most important meal of the day. As many times as we hear and read about it, we still look for a quick excuse to skip the meal in our day-to-day lives. That brings us to the task of finding healthy, quick and of course yummy breakfast delights to complement our busy and stressful lives in the long run. Having an ideal breakfast not only helps control cravings throughout the day and reduce snacking in between meals but also gives you the essential energy to stay active all day.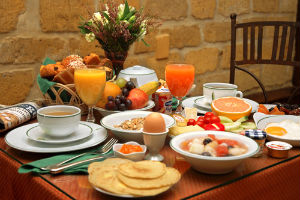 Spice up your day by introducing a variety of breakfast dishes on a day to day basis so you don't fall under a boring routine due to lack of time. Yes, the easiest option is to buy a variety of cereals and fruits and start the day with a hot cup of coffee. You could be a Chinese food fanatic or a complete Italian romantic, but whatever said and done there is nothing like having hot Indian breakfast be it a South Indian Idli – Dosa or a North Indian Paratha – Puri Bhaji. The foremost thing is to stock up your pantry with essential ingredients, say Poha (Aval), Sooji (Rava), Vermicilli (Semiya) and a lot more. You would be amazed at the innumerable dishes you can make with each of these ingredients. Say, Rava can be made into Rava Upma, Rava Kichadi, Rava Pongal, Rava Idli and Rava Dosa. Poha is considered one of the healthiest ways to start your day; you can make Aval Upma, Maharashtrian Aloo Poha and what not! You can experiment with the ingredients according to your taste. The good news is it is all done as quickly as you can imagine. Even if you would like to stick to Dosa or Paratha as a matter of habit, you can try out quit a number of variations in the same, check here for Dosa varieties and Paratha varieties.
Another cuisine that provides a very good start for the day is Continental. It is the most common breakfast menu in star diners and it is almost anyone's favorite. Many would claim, what is a breakfast without bread, butter and eggs? Eggs made the way you like it (Omellete, Sunny Side Up, Poached, Boiled, French Toast, Bulls Eye, Rare Medium, Fried Eggs.. the list is endless) along with jam toast will be complete with some fresh Orange juice. Quick Sandwiches with low-fat spreads and low-calorie fillings are undeniably the best bet for office-goers.
Oats is another breakfast specialty that helps to keep you filled for a longer period of time, a favorite for weight watchers as well as diabetics. Oats Porridge is a commonly made breakfast item; while nowadays the awareness has increased manifold and Oats has become the in-thing lately, there a number of recipes available for preparing Oats, viz, Oats Upma, Oats Dosa and what not. And of course Salads and Soups are always in! As easy as they are to make, they are also equally fresh and healthy.
Now if you have all the time in the world, say for a Sunday Brunch, you could do wonders with breakfast recipes viz. we suggest you try out these Fish Cakes, Sausage Casserole, Carrot and Orange Soup, Banana Nut Bread and Breakfast Beans.  A Baked Potato or Hash Browns, along with a Danish / Muffin (well if you are into baking) or even better can make a Strawberry / Banana Waffle! will add the gloss to your weekend breakfast. If you are going all Indian, there are some must try South Indian traditional specialties like Sevai varieties, Adai Avial, Kozhakatai and Medhu Vada.    
So if you are a stay-at-home mum or just as enthusiastic about making a delicious and healthy breakfast for your family every day, your options are unlimited. You can make a fusion of an assortment of cuisines. Breakfast dishes are the most loved ones for the simple fact that we rarely get to sit and enjoy it, that's why all-day-breakfast restaurants are very famous throughout the world. So as much as we know the benefits of this first meal of the day and love the delicacies, all we need is a resolve to make it a habit and a little bit of creativity to make it an addiction!