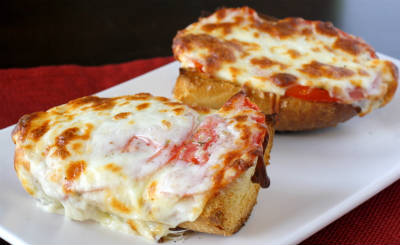 Ingredients:
White Bread Slices – 2
Garlic – 1, small clove, chopped
Extra-Virgin Olive Oil – 1 tblsp
Tomato – 1, large, sliced
Mozzarella Cheese – 1/3 cup, shredded
Parmesan Cheese – 2 tblsp, shredded
Lettuce – handful, chopped
Basil Leaves – 1 tblsp, chopped
Salt as per taste
Black Pepper Powder as per taste
Method:
1. Lightly toast the bread slices on both sides and keep aside.
2. Whisk the olive oil with garlic and basil in a bowl.
3. Spread this on the bread slices.
4. Sprinkle salt and pepper on the tomatoes.
5. Arrange a layer of tomatoes and lettuce on the bread slices.
6. Top up with the mozzarella and parmesan cheese.
7. Heat a tawa over medium flame.
8. Place the bread on the tawa and cover with a lid.
9. Cook until the cheese melts and remove.
10. Serve.
image credit: whatsmeganmaking.com