Nei Appam is a very famous and popular dish in South India especially in Kerala and Tamil Nadu where it is made during festivals like Onam, Navratri, Krishna Jayanthi.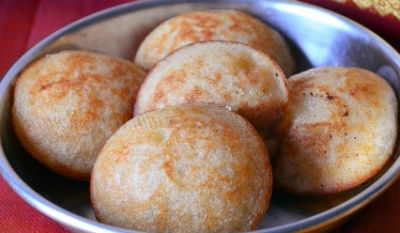 Ingredients:
Wheat Flour – 1 cup
Ghee – 100 ml
Coconut – 1 cup, grated
Rice – 2 tsp
Jaggery – 1 cup, powdered
Cardamoms – 4, peeled
Method:
1. Combine the rice, coconut, jaggery in a bowl.
2. Add the cardamoms and grind to a coarse powder.
3. Add this to the wheat flour and mix well to a dosa batter consistency.
4. Pour the batter into an greased appam mould and cook on both sides.
5. Remove and serve.