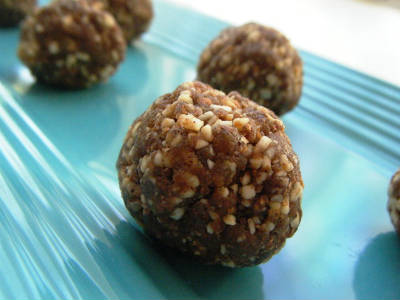 Ingredients:
Almonds – 100 gms, chopped, fried
Jaggery – 1/3 cup, powdered
Ghee – 1/2 tsp
Cardamom Powder – a pinch
Raisins – 15
Method:
1. Dissolve jaggery in a pan of hot water and bring to a boil.
2. Strain and simmer until it starts to thicken.
3. Add ghee, cardamom powder, raisins and almonds.
4. Stir well and remove.
5. Quickly make small balls of the mixture and keep them on a plate to cool.
6. Store in an clean jar.
Tip: If desired, you can roll them in grated coconut before keeping them aside to cool.