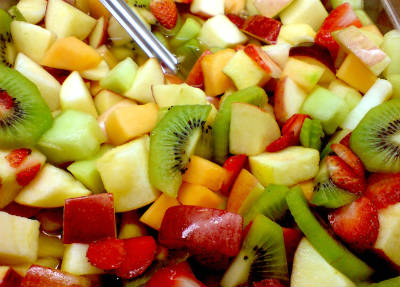 Ingredients:
Coconut – 1/2, grated
Rice – 200 gms, soaked
Milk – 500 ml
Jaggery – 250 gms
Cardamom Powder – little
Mixed Fruits – 1 cup, chopped
Method:
1. Drain the rice well and grind together with grated coconut.
2. Transfer them to a pan and place over low flame.
3. Stir well until thick and then make small balls of the mixture.
4. Bring a pan of water to a boil and drop the balls into it.
5. Boil for a minute or two and remove.
6. Boil milk and add the cooked balls.
7. Add jaggery and cardamom powder.
8. Bring to a boil and then transfer to a bowl.
9. Sprinkle the chopped mixed fruits and serve.
Tip: If desired you can add the mixed fruits at step 3.