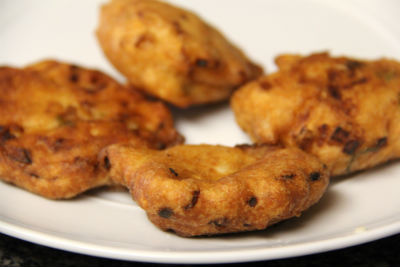 Ingredients:
Roasted Gram Flour – 1 cup
Green Chillies – 2, finely chopped
Onion – 1, finely chopped
Coriander Leaves – few, chopped
Ginger – 1/2 tsp, grated
Oil for frying
Salt as per taste
Method:
1. Combine the flour, salt, green chillies, ginger, onions and coriander leaves.
2. Mix well.
3. Heat oil in a frying pan.
4. Make vadais of the mixture and fry them in hot oil.
5. The vadais should be golden brown and slightly crisp on the edges.
6. Remove and serve at once wth chutney of choice.
Image credit: paapukitchen.wordpress.com
Note: image is for illustration purposes only and not that of the actual recipe.