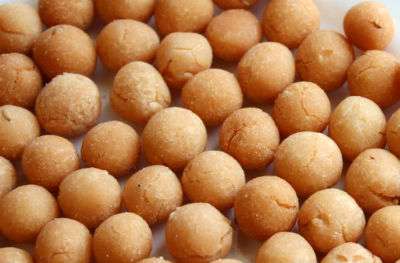 Ingredients:
Maida – 1 1/2 cups
Urad Dal – 1 tsp
Salt – 1 tsp
Black Peppercorns – 1 tsp
Asafoetida Powder – 1/2 tsp
Cumin Seeds – 1 tsp
Coconut – 1 tblsp, grated
Ghee – 1 tsp
Oil – 250 ml
Method:
1. Sieve the maida well and tie it up in a cloth.
2. Steam cook for 5 to 6 minutes and remove.
3. Dry roast the urad dal till golden and grind to a fine powder.
4. Coarsely powder the peppercorns and cumin seeds.
5. Combine the maida, urad dal, cumin powder, pepper powder, salt, coconut, asafoetida powder and ghee.
6. Mix well to a crumbly mixture.
7. If desired, sprinkle a little water.
8. Make small balls of the mixture and keep them on a cloth.
9. Heat oil for frying in a deep pan over medium flame.
10. Fry the prepared balls till light golden brown.
11. Remove and drain excess oil.
12. Store in an airtight container.
Subscribe to our Newsletter
Receive the latest recipes & kitchen tips !