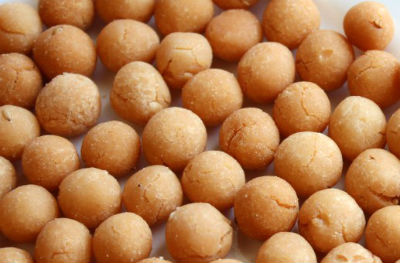 Ingredients:
Raw Rice – 2 cups, soaked for 30 minutes
Urad Dal – 1/2 cup
Salt – 1 tsp
Butter – 50 gms
Asafoetida Powder – 1/4 tsp
Oil – 250 ml
Method:
1. Drain the rice and spread out on a clean white cloth.
2. Keep it under the shade to dry and then grind to a smooth powder.
3. Dry roast the flour till golden and sieve well.
4. Dry roast the dal and grind well.
5. Combine the flours, asafoetida powder and salt in a bowl.
6. Add butter and mix well. Add a little water if needed.
7. Make small balls of the mixture and place on a clean white cloth.
8. Keep them under the fan for a few minutes.
9. Heat oil in a frying pan.
10. Fry the prepared seedais till golden brown.
11. Remove and drain excess oil.
12. Store in an airtight container.