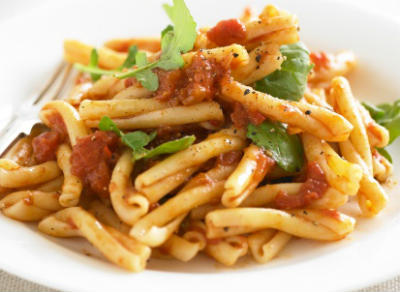 Ingredients:
Pasta – 225 gms
Red Chilli Flakes – 1/2 tsp
Tomatoes – 400 gms, boiled, peeled, coarsely chopped
Garlic – 4 small cloves, minced
Extra-Virgin Olive Oil – 1 1/2 tblsp
Parsley – 1 tblsp, finely chopped
Basil – 2 tsp, finely chopped
Salt as per taste
Black Pepper Powder as per taste
Method:
1. Heat oil in a pan over medium flame.
2. Saute the garlic and chilli flakes for 2 minutes.
3. Add the tomatoes, basil and parsley.
4. Simmer for 10 minutes or until the sauce starts to thicken.
5. Sprinkle salt and pepper.
6. Switch off the flame and keep warm.
7. Cook the pasta in salted boiling water.
8. Drain and transfer to a bowl.
9. Spoon over the sauce and toss once or twice.
10. Serve immediately.
image credit: taste.com.au
Subscribe to our Newsletter
Receive the latest recipes & kitchen tips !