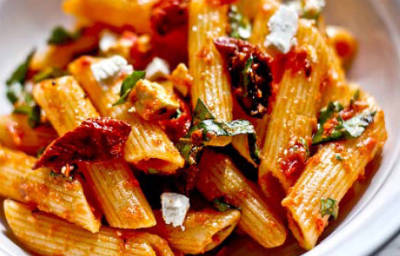 Ingredients:
Tomatoes – 3, large, chopped
Olive Oil – 2 tblsp
Sea Salt as per taste
Black Pepper Powder as per taste
Pasta – 225 gms
Mozzarella Cheese – 110 gms, diced
Basil Leaves – 2 tblsp, chopped
Method:
1. Combine the tomatoes and olive oil in a bowl.
2. Sprinkle salt and pepper powder.
3. Toss well.
4. Transfer the tomatoes to a baking dish and place it in a preheated oven at 425F/210C.
5. Bake for 15 minutes or until the tomato skins turn light brown.
6. Remove and keep warm.
7. Meanwhile, cook the pasta in a pan of salted boiling water.
8. Cook till lightly tender or al dente.
9. Drain and transfer to a serving bowl.
10. Spoon over the roasted tomatoes.
11. Sprinkle the mozzarella cheese on top.
12. Garnish with the basil leaves.
13. Serve at once.
image credit: flickr