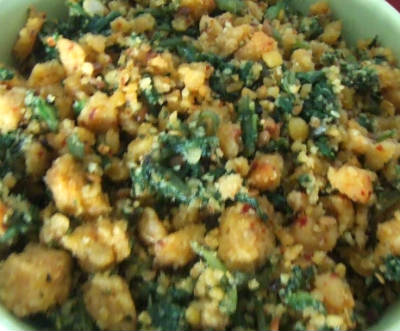 Ingredients:
Toor Dal – 100 gms
Bengal Gram Dal – 100 gms
Agathi Keerai – handful, finely chopped
Dry Red Chillies – 2
Turmeric Powder – a pinch
Asafoetida Powder – a pinch
Oil – 100 ml
Salt as per taste
Method:
1. Soak the dals for an hour.
2. Combine and grind together with red chillies to a thick paste.
3. Add salt, turmeric powder, asafoetida powder and mix well.
4. Heat oil in a pan.
5. Add the dal mixture and reduce flame to low.
6. Keep stirring till the dals are crumbled and separated.
7. Boil the keerai and drain the water. Squeeze dry.
8. Add to the dal mixture and mix well.
9. Simmer for a minute.
10. Remove and serve.