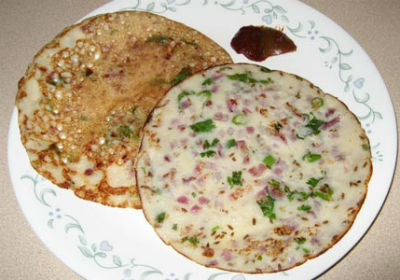 Ingredients:
Spinach Leaves – 1/2 to 3/4 cup, finely chopped
Idli Rice (Boiled Rice) – 250 gms
Urad Dal – 100 gms
Onions – 1 cup, finely chopped
Ginger – 1 tsp, finely chopped
Green Chilli – 1, finely chopped
Oil – 100 ml
Salt as per taste
Method:
1. Soak the rice and dal together for 1 hour.
2. Then grind together to a smooth batter.
3. Heat little oil in a pan.
4. Saute the spinach leaves, onions, ginger and green chillies for 2 to 3 minutes.
5. Add to the batter and mix well.
6. Add salt and mix again.
7. Heat a tawa over medium flame.
8. Pour a ladleful of the batter and spread evenly.
9. Add oil around the edges and cook till light golden brown.
10. Remove and serve with idli podi (idli milagai podi).
Note: image is for illustration purposes only and not that of the actual recipe.