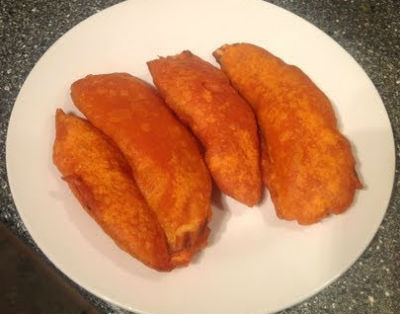 Ingredients:
Nendram Pazham (Ripe Kerala Plantain) – 2, peeled, sliced into thin strips
Wheat Flour – 1/2 cup
Maida – 1/2 cup
Corn Flour – 1 tsp
Cooking Soda – a pinch
Red Chilli Powder – 1/4 tsp
Kesari Powder – a pinch
Onions – 1 tsp, grated
Coriander Leaves – 1 tsp, finely chopped
Salt as per taste
Method:
1. Mix wheat flour, maida, cooking soda, corn flour, kesari powder, salt, onions, coriander leaves and red chilli powder in a bowl.
2. Add enough water to make a semi-thick batter.
3. Heat oil in a deep frying pan.
4. Dip the plantains in the batter 2 to 3 times till fully coated.
5. Then add them to the hot oil and fry till golden brown.
6. Remove and drain excess oil.
7. Serve hot with chutney.