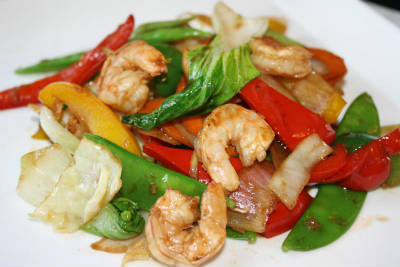 Ingredients:
Shrimps – 1 cup, shelled, peeled, deveined
Butter – 2 tblsp
Mixed Vegetables – 1/4 cup (or 1/2 cup as required)
Ginger Garlic Paste – 1 tsp
Soy Sauce – 1/2 tsp
Lemon Juice as required
Salt as per taste
Black Pepper Powder as per taste
Method:
1. Heat butter in a pan over medium flame.
2. Add the mixed vegetables and stir fry for a minute.
3. Add the shrimps and saute until pink, about 2 to 3 minutes.
4. Add ginger garlic paste and soy sauce. Mix well.
5. Add salt, pepper powder and lemon juice.
6. Mix well and transfer to a plate.
7. Serve at once.