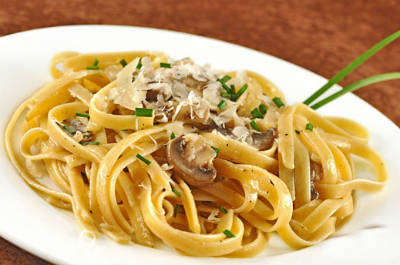 Ingredients:
Fettuccine – 150 gms, cooked as per packet instructions
Tomato Paste – 1/2 tblsp
Canned Tuna in Oil – 100 gms, drained, oil reserved
Cream of Mushroom Soup – 150 gms (readily available in major supermarkets)
Milk – 1/4 cup
Parmesan Cheese – as required, grated

Method:
1. Heat a little tuna oil in a pan.
2. Add the tomato paste and stir-fry for a minute.
3. Add the mushroom soup and milk.
4. Whisk until smooth.
5. Add the tuna and stir to mix well.
6. Add the cooked pasta and gently mix.
7. Sprinkle grated cheese on top.
8. Serve at once.
image credit: mygourmetconnection.com