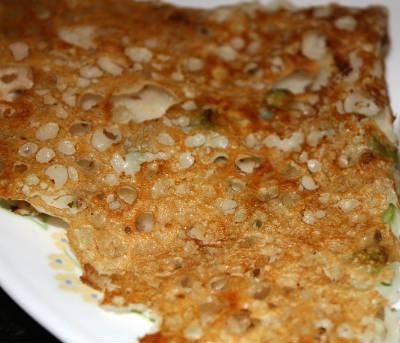 Ingredients:
Wheat Flour – 3/4 cup
Rice Flour – 1/4 cup
Rava – 1/2 cup
Sour Curd – 1 tblsp
Cumin Seeds – 1 tsp
Onion – 1, finely chopped
Green Chilli – 1, finely chopped
Ginger – a small piece, peeled, finely chopped
Coriander Leaves – 1 tblsp
Curry Leaves – handful
Oil – 1/4 cup
Salt as per taste
Method:
1. Combine all the ingredients, except oil, in a bowl.
2. Add enough water and mix to a dosa batter consistency.
3. Heat a nonstick pan over medium flame.
4. Add a little oil and pour a ladleful of the batter.
5. Spread to a medium circle and apply 1 tsp oil around the edges.
6. Cook till light golden brown and crisp.
7. Remove and serve hot with chutney and sambar of choice.
image credit: mammuskitchen.com
Subscribe to our Newsletter
Receive the latest recipes & kitchen tips !