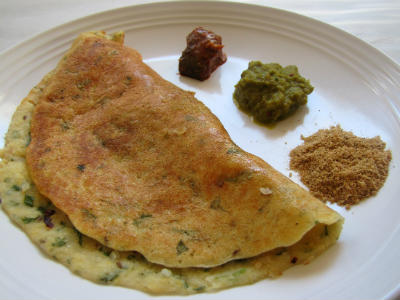 Ingredients:
Kezhvaragu (Ragi) – 1 cup
Sweet Corn Kernels – 1/2 cup
Onion – 1, finely chopped
Dry Red Chillies – 5
Asafoetida Powder – 1/4 tsp
Curry Leaves – few
Coriander Leaves – few, chopped
Salt as per taste
Coconut Oil as required
Method:
1. Soak the ragi and corn separately for 2 hours.
2. Drain and combine together.
3. Add the red chillies, curry leaves, asafoetida powder and salt.
4. Grind to a coarse batter.
5. Add the finely chopped onions, coriander leaves and mix well.
6. Heat a tawa over medium flame.
7. Pour a ladleful of the batter and spread evenly.
8. Add a little oil around the edges and cook on both sides till golden brown.
9. Remove and serve with side dish of choice.