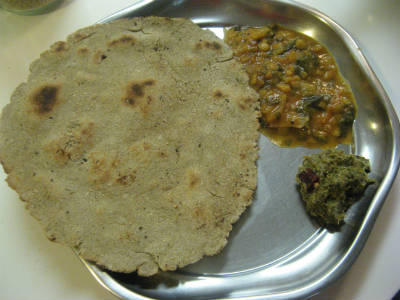 Ingredients:
Kambu (Bajra) Flour – 1 cup
Curd – 1/4 cup
Omam (Kalonji /Black Onion Seeds) – 1 tsp
Ghee – 2 tsp
Oil – 8 tsp
Method:
1. Combine the flour, omam, ghee, curd and enough water in a large bowl.
2. Knead well to a chapati dough consistency and keep aside for 1 hour, covered.
3. Make small balls of the dough and roll them into medium sized chapati.
4. Heat a little oil in a non-stick tawa.
5. Cook the prepared chapatis, applying a little oil around the edges, on both sides till small dark patches start to appear.
6. Remove and serve at once.
7. This dish is quite famous in Rajasthan.
image credit: kammanivanta.wordpress.com