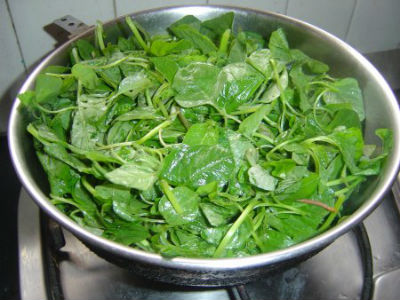 Ingredients:
Mulai Keerai (Amaranth Leaves) – handful, finely chopped
Toor Dal – 100 gms, boiled
Tamarind Extract – 2 cups
Sambar Powder – 2 tsp
Mustard Seeds – 1/2 tsp
Fenugreek Seeds – 1/2 tsp
Asafoetida Powder – a pinch
Oil – 2 tsp
Salt as per taste
Method:
1. Saute the spinach leaves with 1 tsp of oil.
2. Combine the tamarind extract, sambar powder and salt in a pan.
3. Bring to a boil and simmer for a few minutes.
4. Add the spinach leaves and dal.
5. Bring to a boil again.
6. Heat 1 tsp of oil in a small frying pan.
7. Fry the mustard seeds, fenugreek seeds, asafoetida powder and add to the sambar.
8. Serve hot with rice.
Note: image is for illustration purposes only and not that of the actual recipe.